4.1.2017 WANT TO SEE THE MIRACLE? TAKE A LOOK!
Our two litters at one place :)
A lot of puppies is booked, we have AVAILABLE:
From Geta black and tan girl and red boy
From Gappa two deep red females and one black and tan


2.1.2018 CHRISTMAS GREETINGS
Christmas and New Years wishes are coming and coming from our pups all around the world.
Please keep us posted, we love to hear from you.


RUNNING STRAIGHT TO NEW YEAR 2018
Running straightly to Happy New Year 2018.
I wish you a new year filled with prosperity, joy, and love.


22.12.2017 CHRISTMAS GREETINGS FROM OUR GROWN UP BABY MINOS
14.12.2017 "FRESH" PUPPIES FROM GAPPA X MOMO

Two exhausted mothers.... :)
Sharing with you this secret photo my partner took when I am guarding and helping Gappa with her big litter.

14.12.2017 WELCOME PRECIOUS BABIES!
Geta and Kim puppies are on the ground.


31.10.2017 ACTUAL PHOTOS FROM LAST SEASON BABIES
This time 8 months young darlings from Kim & Zilla litter.
Thanks for great care fly to Nicol in Canada

30.10.2017 CULINARY MOMENT
As according the last weather forecast is heading to us strong wind so we are enjoying the last calm moments for today with my dogs outdoor. Each got yummy big bone, find his spot in garden and are having culinary moment :)
In video - first Gappa, then Barsoom and last Geta.


27.10.2017 AVAILABLE FEMALE JUJU COMING SLOWLY TO HER WINTER COAT.
She is so sweet temperament baby girl.

26.10.2017 8 MONTHS OLD SIRIUS NOVA OFFSPRING - FEMALE ZOYA IN THE RING
Achieving another points towards her US Championship. Go Zoya!


18.10.2017 THIS IS HOW OUR DOGS ARE SPREADING LOVE AND JOY AROUND THE WORLD.
Thank you for perfect care Travis!


18.10.2017 LATE EVENING WALK WITH TWO-LEGED AND FOUR LEGED AS WELL
BEST TIBETAN MASTIFF BREEDER AWARD!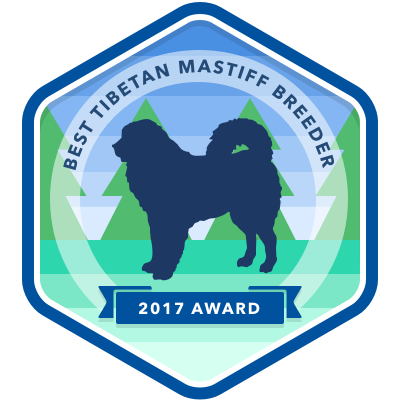 Vetary has analyzed top Tibetan Mastiff breeders and cross referenced positive social mention data with top analytics platforms. Sirius Nova site was a clear winner with U.S. pet owners over the last 12 months. For context, Vetary awards breeders with best-in-class online buzz, content, visuals, and most importantly, a strong cause and devotion toward their breed of dogs.

I LOVE TO HEAR FROM HAPPY PUPPYBUYERS.
Thats one of reasons which gives strenght when there is so much work around my puppies. Thank you guys!

15.8.2017 PHOTOS OF OUR LIU
9.8.2017 PHOTOS OF OUR BABIES FROM THEIR NEW HOMES
We have happy time last few days. Got many pics from our overseas puppies.
Thank you!

8.8.2017 PERFECT FEMALE IN EVERY PART FOR SALE.
If you are looking for lovely companion or future brood bitch here is your chance. We decide to offer for sale our Ju-Ju out of pure china bloodline. She will be very dark red /mahagony/ now she is in her ugly duck stage, but on legs and head the future color is coming out. She has shed almost all her puppy coat and looks shorthair, but new super hair will growth this autumn.
- all teeths changed, scissor bite
- great size, super strong head
- amazing temperament
- done x-rays on her hips - PERFECT result, x-rays can be send to serious buyer

7.8.2017 AFTER LONGER TIME ANOTHER UPDATE FROM HAPPY PUPPY OWNERS
7.8.2017 OUR KIM IN SUMMER COAT AND STILL VERY FLUFFY
4.7.2017 HI, OUR FRIEND AND REAL TIBETAN MASTIFF LOVERS.
There is some internet battle from this lady - Anna Tibetan (she even doesn't show her real name rather) with goal that she will sell more puppies :)
We never go to make so unethical things to any other breeders, we didn't and wouldn't get involved. Just be careful what she is saying and if you are interested in true regarding our dogs or other breeders just go ahead and ask them. To believe some rumours it's her goal.

25.6.2017 GOLDIE!
Update photos of Goldie. She has already 42 pounds and she is already booked!

23.6.2017 GOLDIE IS AVAILABLE!
Due to canceled booking our top mastif type female Goldie is available for reservation. I will make soon actual photos of this goofy girl. She is biggie, already 41 pounds!

20.6.2017 THIS IS HOW LOOKS OUR REAL MASTIFF PUPPIES! NO SHEPHERD TYPE :)
Puppy King enjoying his life in U.S.

13.6.2017 BUNCH OF RED LOVE AVAILABLE.
If you want to have top red female at your home. NOW it's the last time for this year.

12.6.2017 JUST A LITTLE HUG FROM GAPPA :)
5.6.2017 UPDATE OF PUPPIES FROM THEIR NEW HOMES.
Each different but shining love and joy from each pic.

3.6.2017 OUR GIANT CREAM IS NOT A KEEPER
... She found her home over ocean today.
Fly soon safely sweetheart!
Booked to Carol

31.5.2017 WE UNCOVER THE LATEST TREASURES FOR YOU - LAST AVAILABLE GIRLS
one cream girl is available
two red ones are available

I am in contact with some interested people in them, but till now not firmly booked so your chance is here. Another so quality puppies wouldnt be until end of this year!


23.5.2017 TOP CREAM FEMALE
If she will stay here just little bit longer she is a keeper, she gets better every day!

24.4.2017
Another two boys safely landed by their owners. I know that was a long waiting time but now Elena and Mauricio can fully enjoy Hunter. And Louis and Deanna are simply over the moon with their Little King.

18.4.2017 ALL MALES ARE BOOKED.
Another two puppies booked in last two days. ALL MALES ARE BOOKED.

18.4.2017 ZEUS AT HIS NEW HOME
Zeus say hello with his playmates from his new home.
17.4.2017 FEMALE ZEBEDEE

Zebedee is already booked.
15.4.2017
Safely landed in CA and enjoy meeting new owners of our puppies personally.
14.4.2017 SPRING WALK
Walk with our cuties before they flight to destinations all over the world.
9.4.2017 RUN, BABY, RUN!
Or some hungry piranhas gonna get you.


9.4.2017 JIAO AND KATO ARE SENDING GREETINGS FROM THEIR HOMES

Chrisi is having hard time to still carry in arms her lovely 15 weeks old Jiao-Long.


This photo I got is calling for contest! :)
Hard to say if Kato (3 months) is nicer or the girl. Dog or her little owner?
7.4.2017 ZOYA AND ZELDA
4.4.2017
Dear friends. I found out that some of my last year puppies which were send to US has already puppies in US. Thats so unresponsible! Think from whom you are buying your puppy. They are promoting as Sirius Nova bloodline, but you wouldnt get such a quality as here. I never use puppies to produce puppies and I choose realy carefuly who I breed or not. Sometimes I do just one litter and never repeat it when I am not absolutely satisfied.
So please think and check all info before you buy, wherever.
1.4.2017

Just three weeks from us and so matured!
We love you Kahn and send kisses to Germany.
30.3.2017 BLOND IS GOLD!


Male Zeus 10 kgs in 7 weeks!
20.3.2017 SO PATIENT BOY WITH HOUSE FULL OF MISCHIEF PUPPIES!
20.3.2017 FINALY THE SPRING IS HERE!
17.3.2017 HONG AND NORA'S PUPS
Just one month old.

Bunch of colors.
15.3.2017 PICS FROM OUR BABIES NEW HOMES
Please update us with your happiness with Sirius Nova puppies in new homes.
We know that our goal, to produce the best, makes another families happy and guarded ;)
26.2.2017 LITTER K
Wonderful boy out of Barsoom x Priya litter .
More photos at site of litter K.

24.2.2017 PUPPIES ARE HAVING PARTY IN THE GARDEN
Our "J" and "K" babies.
20.2.2017 OUR FB PAGE HAS OVER 5000 FANS!
Follow us also on FB to see the hottest news about our kennel and our awesome tibetan mastiff babies!
20.2.2017 NEWS FROM OUR WHELPING BOX
Our 2 months old babies are waving with paws and flying to the world, but you can see here our newborns. This is the strong mastiff type we love and breed.


Violetcollar girl by Nora and Hong



Litter J - 2months old

7.2.2017 CHECK OUR "HULKS"
You had to melt down. I am presenting you our small "Hulks" :) Litter J out of Lisa x Barsoom. All boys has in 7 weeks 12 kilograms! And their sister Ju-Ju 10 kilograms. Here you can see a typical Sirius Nova monastery puppy.
More photos at site of litter J.


Evening quick shot of 7 weeks old brothers from litter J. Both booked to USA.


23.1.2017 OUR "J" LITTER
I would like to introduce you some puppies from litter J. We are over the moon with this litter. In age of 5 weeks boys has 8 kilograms and girls 6,5 kilograms!


Juju and Jumanji

2.1.2017 OUR TIBETAN MASTIFF CHOYA
Before giving you the news of born and upcoming litters for 2017 let me turn my head for year 2016 in which was born also this lovely baby. I am introducing you Choya - litter sister of Chissisi, now one year old girl out of Barsoom x Lara.
So year 2016 is behind us let's go straightly to New Year 2017!