Here at Sirius Nova Tibetan Mastiffs we are committed to quality selective breeding with health and temperament as our primary goal, followed immediately by beauty and correct breed type. Every precaution has been taken to attempt to eradicate hip displasia from our breeding lines. Both parents of the puppy have been radiographed for dysplasia and have been undergone health checks by their veterinarian prior to breeding.
Our puppies are raised in the house in a bedroom off the kitchen with plenty of exposure to common household traffic and noises. They are lovingly handled and socialized from birth with an abundance of constant attention.
Once old enough to venture outside they interact with our adult dogs and spend many happy hours playing and exploring our property. Collar and leash training are eventually introduced along with nail trim and grooming tolerance, bite inhibition and prevention of food guarding exercises. Obviously it is up to the owner to continue these early important lessons.
At Sirius Nova Tibetan Mastiffs we support Natural Rearing methods. We believe that poor nutrition and contribute to the overall poor health in dogs. We feed our Tibetan Mastiffs with superpremium dog food Platinum Natural, raw bones and etc.
Should you decide to purchase a puppy from us, detailed information on diet, vaccination and general care will be included in your puppy packet (where is included also bag of food).
Photos of our dog room, hall of fame, puppy playground will follow!




After many questions I decide to make a video for you, there are answers for example for:
- where are my dogs from
- where they live
- how it works to import Sirius Nova puppy




Vetary has analyzed top Tibetan Mastiff breeders and cross referenced positive social mention data with top analytics platforms. Sirius Nova site was a clear winner with U.S. pet owners over the last 12 months. For context, Vetary awards breeders with best-in-class online buzz, content, visuals, and most importantly, a strong cause and devotion toward their breed of dogs.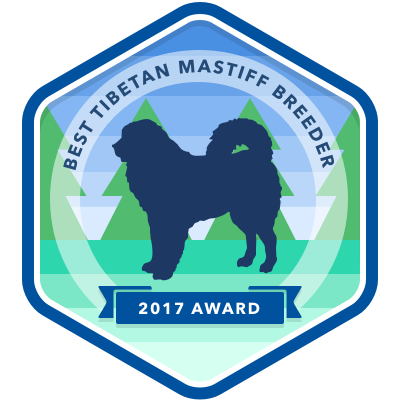 OUR TROPHIES



We ship worldwide. Our puppies already lives in Argentina, Armenia, Australia, Belgium, Brasil, Canada, France, Ghana, Greece, Ireland, Mauritius, Mexico, Portugal, Romania, Scotland, Slovak Republic, Slovenia, Sweden, Ukraine, United Kingdom, USA and many more I didn't mention.
You are frequently asking us where our tibetan mastiffs live. Well, not in a kennel :) they have their own part of my house, their doggy room with instant clip-clap doors to outdoor run. In the room are different types of bed so each can choose their favourite, but usualy leather sofas are wining.





Baby class at International dog show:
You can easily recognize Sirius Nova quality puppy among puppies of the other breeders.
This is where the quality speaks.