OUR NEAREST BREEDING PLANS
We would like to introduce you our planned combination for winter 2017/2018!
The booking is open!





However if you are impatient to have your Sirius Nova tibetan mastiff we still one available! Check our biggie red lady JuJu.

18.10.2017 THIS IS HOW OUR DOGS ARE SPREADING LOVE AND JOY AROUND THE WORLD.
Thank you for perfect care Travis!


18.10.2017 LATE EVENING WALK WITH TWO-LEGED AND FOUR LEGED AS WELL
BEST TIBETAN MASTIFF BREEDER AWARD!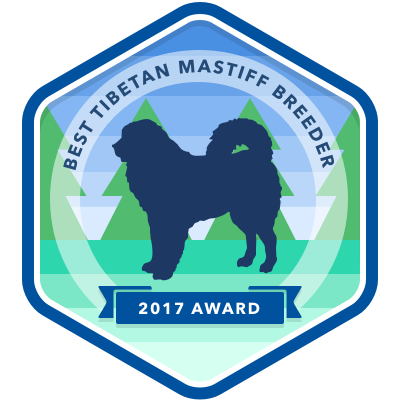 Vetary has analyzed top Tibetan Mastiff breeders and cross referenced positive social mention data with top analytics platforms. Sirius Nova site was a clear winner with U.S. pet owners over the last 12 months. For context, Vetary awards breeders with best-in-class online buzz, content, visuals, and most importantly, a strong cause and devotion toward their breed of dogs.

I LOVE TO HEAR FROM HAPPY PUPPYBUYERS.
Thats one of reasons which gives strenght when there is so much work around my puppies. Thank you guys!

15.8.2017 PHOTOS OF OUR LIU
9.8.2017 PHOTOS OF OUR BABIES FROM THEIR NEW HOMES
We have happy time last few days. Got many pics from our overseas puppies.
Thank you!

8.8.2017 PERFECT FEMALE IN EVERY PART FOR SALE.
If you are looking for lovely companion or future brood bitch here is your chance. We decide to offer for sale our Ju-Ju out of pure china bloodline. She will be very dark red /mahagony/ now she is in her ugly duck stage, but on legs and head the future color is coming out. She has shed almost all her puppy coat and looks shorthair, but new super hair will growth this autumn.
- all teeths changed, scissor bite
- great size, super strong head
- amazing temperament
- done x-rays on her hips - PERFECT result, x-rays can be send to serious buyer

7.8.2017 AFTER LONGER TIME ANOTHER UPDATE FROM HAPPY PUPPY OWNERS
7.8.2017 OUR KIM IN SUMMER COAT AND STILL VERY FLUFFY
4.7.2017 HI, OUR FRIEND AND REAL TIBETAN MASTIFF LOVERS.
There is some internet battle from this lady - Anna Tibetan (she even doesn't show her real name rather) with goal that she will sell more puppies :)
We never go to make so unethical things to any other breeders, we didn't and wouldn't get involved. Just be careful what she is saying and if you are interested in true regarding our dogs or other breeders just go ahead and ask them. To believe some rumours it's her goal.

25.6.2017 GOLDIE!
Update photos of Goldie. She has already 42 pounds and she is already booked!

23.6.2017 GOLDIE IS AVAILABLE!
Due to canceled booking our top mastif type female Goldie is available for reservation. I will make soon actual photos of this goofy girl. She is biggie, already 41 pounds!

20.6.2017 THIS IS HOW LOOKS OUR REAL MASTIFF PUPPIES! NO SHEPHERD TYPE :)
Puppy King enjoying his life in U.S.

13.6.2017 BUNCH OF RED LOVE AVAILABLE.
If you want to have top red female at your home. NOW it's the last time for this year.

12.6.2017 JUST A LITTLE HUG FROM GAPPA :)
5.6.2017 UPDATE OF PUPPIES FROM THEIR NEW HOMES.
Each different but shining love and joy from each pic.

3.6.2017 OUR GIANT CREAM IS NOT A KEEPER
... She found her home over ocean today.
Fly soon safely sweetheart!
Booked to Carol

31.5.2017 WE UNCOVER THE LATEST TREASURES FOR YOU - LAST AVAILABLE GIRLS
one cream girl is available
two red ones are available

I am in contact with some interested people in them, but till now not firmly booked so your chance is here. Another so quality puppies wouldnt be until end of this year!


23.5.2017 TOP CREAM FEMALE FOR SALE.
If she will stay here just little bit longer she is a keeper, she gets better every day!

19.5.2017 AVAILABLE TOP PUPPIES
Girls in different price ranges in color black and tan, cream and red.

24.4.2017
Another two boys safely landed by their owners. I know that was a long waiting time but now Elena and Mauricio can fully enjoy Hunter. And Louis and Deanna are simply over the moon with their Little King.
There are few available top puppies, just contact me in case of interest.

21.4.2017 LOVELY STRONG RED FEMALE FOR SALE
21.4.2017 FOR SALE DEEP BLACK AND TAN FEMALE
Last possibility for this color this breeding season.

21.4.2017 BOOKED!
Fly, litter girl, to your older brother. We wish you the best.

18.4.2017 ALL MALES ARE BOOKED.
Another two puppies booked in last two days. ALL MALES ARE BOOKED.
Some red girls and one black and tan female possible to book.
Very soon all our puppies will be sold out so don't miss a chance.
18.4.2017 AVAILABLE FEMALE XENIE
Also Zoya and Zelda are still available. Check them on photos below.


(Xenie is booked since 20.4.2017)
18.4.2017 ZEUS AT HIS NEW HOME
Zeus say hello with his playmates from his new home.
17.4.2017 FEMALE ZEBEDEE

Zebedee is already booked.
15.4.2017
Safely landed in CA and enjoy meeting new owners of our puppies personally.
14.4.2017 SPRING WALK
Walk with our cuties before they flight to destinations all over the world.
9.4.2017 ZOYA AVAILABLE FOR SALE
And also some of her pet sisters for lower price.

9.4.2017 RUN, BABY, RUN!
Or some hungry piranhas gonna get you.


9.4.2017 JIAO AND KATO ARE SENDING GREETINGS FROM THEIR HOMES

Chrisi is having hard time to still carry in arms her lovely 15 weeks old Jiao-Long.


This photo I got is calling for contest! :)
Hard to say if Kato (3 months) is nicer or the girl. Dog or her little owner?
9.4.2017 ZEUS IS BOOKED TO GERMANY
7.4.2017 Zoya and Zelda
Lovely sisters Zoya and Zelda - AVAILABLE

4.4.2017
Dear friends from California.
If you are interested in my puppies I am leaving there on 14.4. to Los Angeles with one of my puppy. So I can bring the puppy with me and we can meet personaly.
So anybody from that area just hit me with a message and we can arrange special details :)
4.4.2017
Dear friends. I found out that some of my last year puppies which were send to US has already puppies in US. Thats so unresponsible! Think from whom you are buying your puppy. They are promoting as Sirius Nova bloodline, but you wouldnt get such a quality as here. I never use puppies to produce puppies and I choose realy carefuly who I breed or not. Sometimes I do just one litter and never repeat it when I am not absolutely satisfied.
So please think and check all info before you buy, wherever.
1.4.2017

Just three weeks from us and so matured!
We love you Kahn and send kisses to Germany.
30.3.2017 BLOND IS GOLD!


Male Zeus 10 kgs in 7 weeks!


We have these top babies available and also two pet females for very good price.
Just contact me for aditonal info.
29.3.2017 BABY GIRL AVAILABLE
Check our available baby girl, VIOLET collar, when you will be writing me.
She is by Nora and Hong.
20.3.2017 SO PATIENT BOY WITH HOUSE FULL OF MISCHIEF PUPPIES!
20.3.2017 FINALY THE SPRING IS HERE!
5 weeks old AVAILABLE females exploring garden.
19.3.2017 AVAILABLE FEMALE IN VERY INTERESTING COLOR
Strong massive type. By Hong and Nora.
19.3.2017 WE HAVE FANTASTIC TOP MALE AND FEMALE AVAILABLE.
Age 5 weeks. Also two pet girls for very good price possible to book.
17.3.2017 WE HAVE AVAILABLE FEMALES OUT OF NORA
Here is one available female in true monastery type. Just one month old

Two boys on guard. One booked to Australia, one is possible to book.



Bunch of colors. It is possible to book some of this puppies.
15.3.2017 PUPPIES AVAILABLE
We have top quality puppies available, we will update you soon with photos, in case of interest just pm me and I can provide you aditional info.
15.3.2017 PICS FROM OUR BABIES NEW HOMES
Please update us with your happiness with Sirius Nova puppies in new homes.
We know that our goal, to produce the best, makes another families happy and guarded ;)
4.3.2017
All puppies from litter J and K are booked and I will be slowly showing you some availalbe puppies out of Nora x Hong. For begining these three females for very good price.

Age two weeks
PHOTOS OF THE LITTER K IN AGE OF 6 WEEKS!!
28.2.2017 KRONOS - LAST AVAILABLE BARSOOM'S SON !!
Kronos - our perfect male out of litter Priya x Barsoom enjoying first spring sunshine with us. HE IS AVAILABLE TO BEST HOME. He makes us proud, in future will make you proud to own such a gem.
26.2.2017 !!LAST CHANCE TO BUY BARSOOM'S SON FOR THIS SEASON!!
Wonderful boy out of Barsoom x Priya litter become AVAILABLE.
Just give me a message in case of interest.
24.2.2017 PUPPIES ARE HAVING PARTY IN THE GARDEN
Our "J" and "K" babies.
20.2.2017 OUR FB PAGE HAS OVER 5000 FANS!
Follow us also on FB to see the hottest news about our kennel and our awesome tibetan mastiff babies!
20.2.2017
Our 2 months old babies are waving with paws and flying to the world, but you can see here our newborns. This is the strong mastiff type we love and breed.
POSSIBLE TO RESERVE FEMALES AND ALSO TWO MALES :)
Just PM me.

Violetcollar girl by Nora and Hong



Litter J - 2months old

11.2.2017 YOUR CHANCE FOR SIRIUS NOVA'S PUPPY IS HERE
After many posts just showing you already booked puppies your chance is here.
Together with my friend come to world another litter. We have available:
BLACK AND TAN male
LIGHT CREAM male
RED male
BLACK AND TAN female
ALMOST FULL BLACK female
RED females

In case of interest please send me a message I will give you all aditional informations.
10.2.2017 LIKE FATHER, LIKE SON
Barsoom is learning his 7 weeks old son how to guard garden.
Lesson 1:"Just lay and look around :)"


7.2.2017 ICEBERG WILL MELT!
Cuddle our lazy Ju-Ju :)


7.2.2017 CHECK OUR "HULKS"
You had to melt down. I am presenting you our small "Hulks" :) Litter J out of Lisa x Barsoom. All boys has in 7 weeks 12 kilograms! And their sister Ju-Ju 10 kilograms. Here you can see a typical Sirius Nova monastery puppy.
All puppies from this mating is booked but you can book from our very soon upcoming litters.

Evening quick shot of 7 weeks old brothers from litter J. Both booked to USA.



7 weeks old Jumanji - biggie with 12 kilograms



7 weeks old Ju-Ju says: "It's soo boring'



7 weeks old babyboy Jamad - 12 kilograms!



7 weeks old and already 12 kilograms! Compare Jamad's paw to switchbox. He is our Hulk!

23.1.2017 OUR "J" LITTER
I would like to introduce you some puppies from litter J. We are over the moon with this litter. In age of 5 weeks boys has 8 kilograms and girls 6,5 kilograms!
All puppies from this litter are booked, you can book your puppy from upcoming litters.

Juju and Jumanji

Here follow also boy Jumanji on a weight scale.


20.1.2017 DOG VIDEO!
We have been asked from Alux /250 000 video subscribers/ if we allow to use our videofootages for their video about Most Expensive dogs. We allow and here it's a result. Video full of very interesting informations from dogs world. Enjoy!


9.1.2017 ZILLA SAYS: KEEP AWAY FROM MY BABIES! PREGNANCY CONFIRMED!
Our so long awaited litter is confirmed! Zilla is waiting puppies with Kim. Bigger mated with the biggest.


2.1.2017 WE OPEN BOOKING OF OUR TRUE MASTIFF TYPES FOR 2016/2017
On photo is one year old babyboy. This is type we love and breed.


The boy is already booked, but you can still book a puppy from our two still awaited litters.
2.1.2017 OUR TIBETAN MASTIFF CHOYA
Before giving you the news of born and upcoming litters for 2017 let me turn my head for year 2016 in which was born also this lovely baby. I am introducing you Choya - litter sister of Chissisi, now one year old girl out of Barsoom x Lara.
So year 2016 is behind us let's go straightly to New Year 2017!

22.12.2016 TIBETAN MASTIFF PUPPIES UNDER CHRISTMAS TREE
All here is in x-max/puppy mood. Every day feeding, weighting and cuddling.
Here is actual video of our one week old monastery type red baby girl. She is pure china blood and will be very big and fluffy with impressive headtype.


21.12.2016 FROM OUR HOME
From your questions regarding our mastiffs: YES DEFINITELY THEY WERE HUGHERS :-*
11 months old girl Gappa here

14.12.2016 HIS MAJESTY BARSOOM
Barsoom - the one and only king of our property and harem is slowly coming to his majestic winter coat.
Love him to bits.

17.11.2016 GREETING FROM CHISSISI!
Big sister photo comes before this year babies will be born.
This is 10 months old giant girl (out of Barsoom x Lara) living and being spoiled in Belgium.

30.10.2016 HERE WE GO!
Our breeding plan for the winter.

28.10.2016 WE ARE REALY PROUD OF OUR OFFSPRINGS AND WANT TO SHARE.
Our lion puppy guarding his owner's garden like a pro.

16.8.2016 WE HAVE POSSIBLY SPECIAL BOY FOR SALE
He is 9 months old, pure china with very massive head, now he is out of the coat, but he will have very rich coat. His bones are so so thick. Please send me just serious requests for this royal king, his price is on the upper side.

11.07.2016 IN FOLLOWING DAYS WE WILL ADD ANCESTORS OF OUR DOGS
Almost all of them are chinese dogs livingin China. We start with father and mother of Kim.


17.6.2016 PICS OF MUFASA
Mufasa - our 1,5 year old babyboy out of Barsoom x Mida enjoying his spoiled life by David.

8.6.2016 PLANS FOR CHINESE TIBETAN MASTIFF PUPPIES
We plan this year 4 interesting matings, but please we dont have realy available puppies right now.
To cheer you up I attach two more photos of Indigo.

28.4.2016 ALL OUR PUPPIES ARE BOOKED.
27.4.2016 OUR STAR ISIS IS NOW BOOKED TO OHIO
And tomorow we are leaving to California with her brother Indigo, last kiss sended from czech ground :)



Indigo
20.4.2016 NEW PHOTOS OF AVAILABLE VIOLET COLLAR GIRL FROM LITTER CH - CHITA
15.4.2016
Another two puppies has been booked today so for sale is now the violet girl from litter Ch and female from litter I - Isis.
12.4.2016 WE HAVE AVAILABLE VERY NICE FEMALE FROM LITTER CH - VIOLET COLLAR
9.4.2016 NEW PHOTOS OF AVAILABLE BOY AND GIRL FROM LITTER I AND FEMALE FROM LITTER CH
Very rich coat, weight +20 kgs already!


Chissisi - 3,5 months



Ishtar - 3 months



Isis - 3 months
9.4.2016 FINALLY NEW PHOTOS OF LISA
And we have also new photos of Priya already in summer coat.


Lisa


Priya in summer coat.
28.3.2016 WE ADDED NEW PHOTOS AND VIDEOS OF OUR AVAILABLE FUTURE STARS

from the left: female Isis, female Chissisi, male Ishtar



new photos female Isis - 2,5 months old



new photos female Chissis - 3 months old

Also videos of our puppies for sale:


Videos of Ishtar 2,5 months / Chissisi 3 months / Isis 2,5 months
23.1.2016 ACTUAL PHOTO OF ME AND BARSOOM
20.3.2016
Dear friends, you are frequently asking us where lives our tibetan mastiffs. Well, not in a kennel :) they have their own part of my house, their doggy room with instant clip-clap doors to outdoor run. In the room are different types of bed so each can choose their favourite, but usualy leather sofas are wining.


14.3.2016 NEW PHOTOS OF LITTER I
Red male Ishtar and red female Isis AVAILABLE from litter I and you can see them also on videos.
Litter Ch - from this litter is female with violet collar available.
Her sister with red collar is going to UK and green collar female is reserved as well.



Litter I, 8 weeks
4.3.2016 WE HAVE ACTUAL VIDEOS OF OUR BUNCH OF LOVE
Girls from litter Ch, age 8 weeks
THIS THREE GIRLS ARE FOR SALE:


Green, Violet and Orange girl
4.3.2016 Red male (Black boy) is again available from litter I.
20.2.2016 ACTUAL PHOTOS OF 7 WEEKS GIRLS FROM LITTER CH
Available girls from the left: Green, Orange and Violet girl
19.2.2016
Silver boy os booked, as well as pet female, so now you can book three females from litter Ch and one top red female from litter I.

We have new photos of litter I:



Silver boy is booked to US, but you can have a joy to view his photos or video.



Red boy:



Here you can see AVAILABLE female from litter I and her video.



Pet female is not for sale anymore, she is reserved to US.

ACTUAL PHOTOS OF LITTER CH
Females 6 weeks old, AVAILABLE THREE GIRLS.

10.2.2016 - OUR SILVER TOP MALE OUT OF BARSOOM X PRIYA IS BOOKED FOR ED /US/
Please don't ask on him anymore, now available red females and till now red male (anyway also closed to be booked soon)
29.1.2016 - Pet female for sale - no breeding rights
29.1.2016 PHOTOS OF LITTER I (PRIYA X BARSOOM)
More info and photos HERE.


Litter I, 2 weeks old
25.1.2016 WE HAVE PUPPIES AVAILABLE - RED FEMALES AND SILVER BOYS BY BARSOOM
We have some red girls available out of Lara x Barsoom, on photos age of 10 days.
We have available red female and two boys in special silver color out of Priya x Barsoom.
We have one top quality female for sale for special prize, just as pet, loyal companion, no breeding rights on her. Small strong lion in your garden
More info and photos HERE.


Girls by Lara and Barsoom, 10 days old.
4.1.2016 WE HAVE PUPPIES AVAILABLE - RED FEMALES BY BARSOOM
4.5.2015 ALL PUPPIES ARE SOLD FOR THIS YEAR
Thank you all for interest in your puppies.
If you are seriously interested in top quality tibetan mastiff baby I suggest you to book puppy in our kennel for next breeding season in forward.
Then you are able to choose and not to be stressed over there is no puppy available for you :)
We plan probably 2 interesting matings.
1.3.2015 WE HAVE AVAILABLE TOP MALE FROM LITTER F
1.3.2015 LITTER G HAS BEEN BORN
Giants in size 650-750 grams. We have seven puppies, three puppies are possible to reserve.

OUR BELOVED TERRI HAS GONE OVER RAINBOW BRIDGE.
She died on her most favourite place and just calmly sleep down. We miss you dear Terri.

24.2.2015 NEW PHOTOS OF FATHER FOR OUR LITTER F
All females are sold for now. Please ask just for top males from actual litter.

14.2.2015 WE HAVE AVAILABLE ONE FEMALE FOR SPECIAL PRIZE
AND TWO BIG STRONG 100% LION HEAD MALES.
11.2.2015 WE HAVE AVAILABLE TOP FEMALE FROM LITTER F AND ONE FEMALE FOR PERFECT PRIZE. THEN TWO BIG MALES.
Other puppies are reserved. Here are photos when 4,5 weeks old. Actualy will add soon. They are growing like a weeds, already barking when some stranger comes and other funny stuff :)

4,5 weeks old - bordo girl, black boy, pink girl, red girl



4,5 weeks old - all girls
20.1.2015
We're abroad 19.1.-1.2. so please be patient with our replies. We will try to get online regulary, but not every day.
About half of litter F is already spoken, rest is possible to book.
20.1.2015 - MAYO - ONE OUF OUR OFFSPRINGS
6.1.2015 - VIDEOS OF OUR PUPPIES - 5 DAYS OLD
Boys are - grey, blue, green and bluegreen collar, rest are girls.


On 29.12.2014 OUR TIBETAN MASTIFF F LITTER WAS BORN
Mother is our Baruntse Yo-Ba Sirius Nova and father is chinese male imported to Russia - Sato Hong Wang Of Long Cheng Kennel. Unfortunately we lost our lovely Yo-Ba. She is sadly missed. Luckily we found very quickly stepmother with help of our friends.
Hopefuly she will live through her children. We have 10 girls and 4 boys. In all possile shades of red.
THERE IS POSSIBILITY TO BOOK GIRLS, BOY IS PROBABLY AVAILABLE JUST ONE!


Sire Sato Hong Wang Of Long Cheng Kennel as a puppy and dam Yo-Ba Siriua Nova as a puppy.

17.12.2014 We add informations about coming litters for this season - puppies
Another trip to China, another perfect female in our kennel, name Lisa
25.8.2014 - Video of Zilla's father, our new imported female
Club show KCHMPP 2014
Finaly results from Club show of club KCHMPP also with a photo.
Kim won his baby class out of 3 babies and got just perfect description with wishing the bright future.
Mona Very Promising 1 and in final ring Best Puppy in Show III!
Priya - she did it! Won out of 4 females and is just one more stop close to finish Czech champion.

Mona /7 months/ and Kim /almost 5 months/
We went to China and bring again the best from the best back to our kennel!
19.4.2014 - Sirius Nova's China Zhang Jie
Fresh photo of our chinese import Mida
The Tibetan Mastiff is a unique and magnificent breed. They are natural guardians and protect their family and home with marked dedication. At the top of the world in their native land of Tibet they were used as guardians of flock, domicile and monastary. Their true history remains an enigma but the Tibetan Mastiff is thought to be the foundation of many of the Mastiff breeds. They are not always eager to please which can make training a challenge but they are very intelligent and sensitive and respond best to a patient hand and a soft word. Socialization during the first two years of life is important to ensure a confident and outgoing companion. I continue to be struck by their quiet dignity and gentle beauty, they are truly a noble creature.
In order to introduce new bloodlines to the existing Tibetan Mastiff gene pool in the Europe, Sirius Nova Tibetan Mastiffs brought different top Tibetan Mastiff bloodlines directly from various locations in China, which ancestors are mainly from Yushu area to our kennel.
I totaly felt in love with chinese tibetan mastiff type. Dogs which are bought in China have very nice bones, fur and typical lion look. If you want to have almost real lion in your garden, there is a chance. Just get a puppy from us